My daughter is super obsessed with Harry Potter right now. With halloween coming up, you can probably guess that her costume choice this year is to dress up as Hermione Granger – Harry's super smart bestie. I was thrilled to hear this because it gave me the opportunity to make her, her very own Gryffindor scarf and share the pattern with you!
The yarn that I chose to work with is Knit Picks Wool of the Andes in the colours Caution and Cranberry. These are the closest matching yarn colours I could find to the actual Gryffindor House colours, and I love the stitch definition and durability of this yarn.
I decided to use circular needles and work the pattern as a long tube for a few reasons. First, it would make the scarf extra thick and warm for our very cold Canadian winters. Second, stockinette stitch tends to curl on the ends, so making the scarf this way helps it lay flat. And last, you get to knit all of the stitches without having to switch to purls when you turn your work.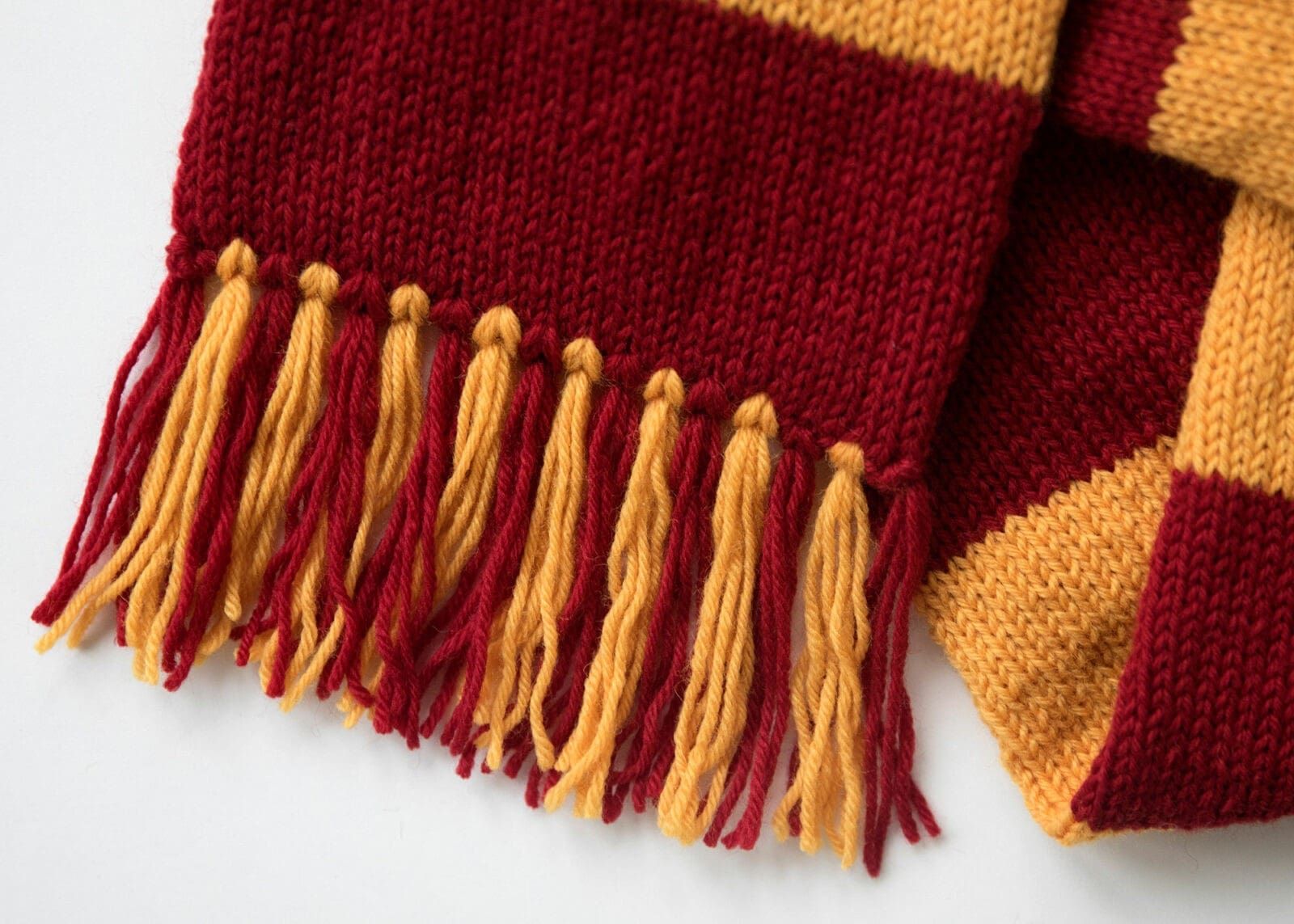 Please note that some of the links below are affiliate links and I will earn a commission if you purchase through those links. I use all of the products listed below and recommend them because they are companies that I have found helpful and trustworthy. Please let me know if you have any questions about anything listed below!
Harry Potter Hogwarts Gryffindor Scarf Pattern
Here is what you will need to make this scarf:
16″ US8/5 mm circular knitting needles.
Knit Picks Wool of the Andes yarn in the following colours:

Colour A: Cranberry – 4 Skeins
Colour B: Caution – 4 Skeins

Stitch Marker.
Yarn Needle.
Crochet Hook to attach tassels.
Gauge
4.5 stitches = 1 Inch in stockinette stitch
Measurements:
7.5 " Wide X 64″ Long.
Pattern
This scarf is worked in the round to create a very long tube.
Using circular needles and Colour A, cast on 70 Stitches. Place the stitch marker to mark the beginning of the round and join being careful not to twist your work.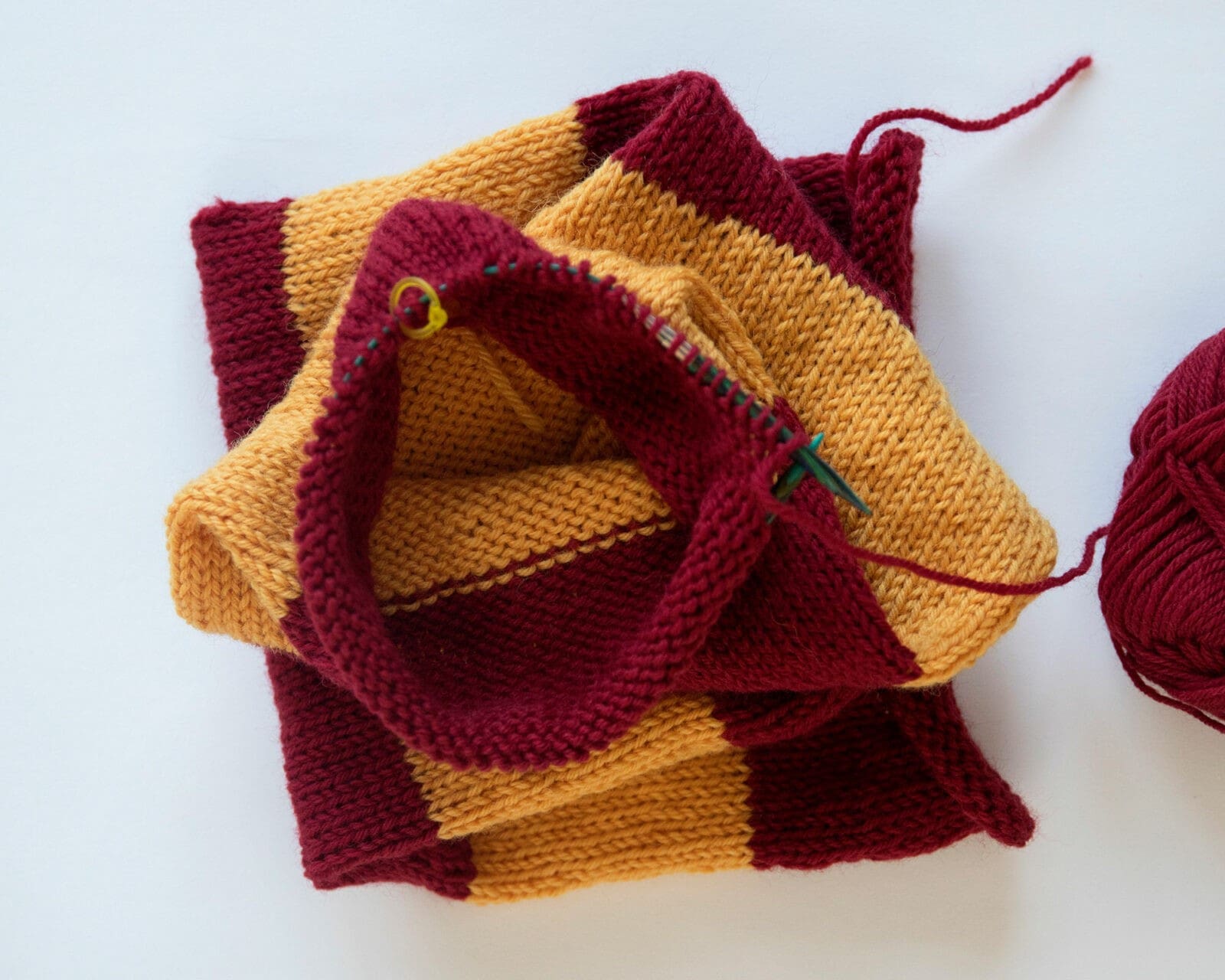 Work in stockinette stitch (knit all stitches) for 20 rounds.
Switch to Colour B and work 20 more rounds in stockinette stitch.
Continue this pattern (alternating 20 rounds of colour A and colour B) until you have 10 blocks of Colour A and 9 Blocks of Colour B.
Finishing
Cast off your stitches and lay the scarf flat to block (you don't have to block your scarf, but it can make the stitches look more even). Sew up the two open ends.
Attach tassels to each end in alternating colours. For each tassel, cut three pieces of yarn (about 10-12 inches long), fold in half and loop through scarf edge with a crochet hook. See image below: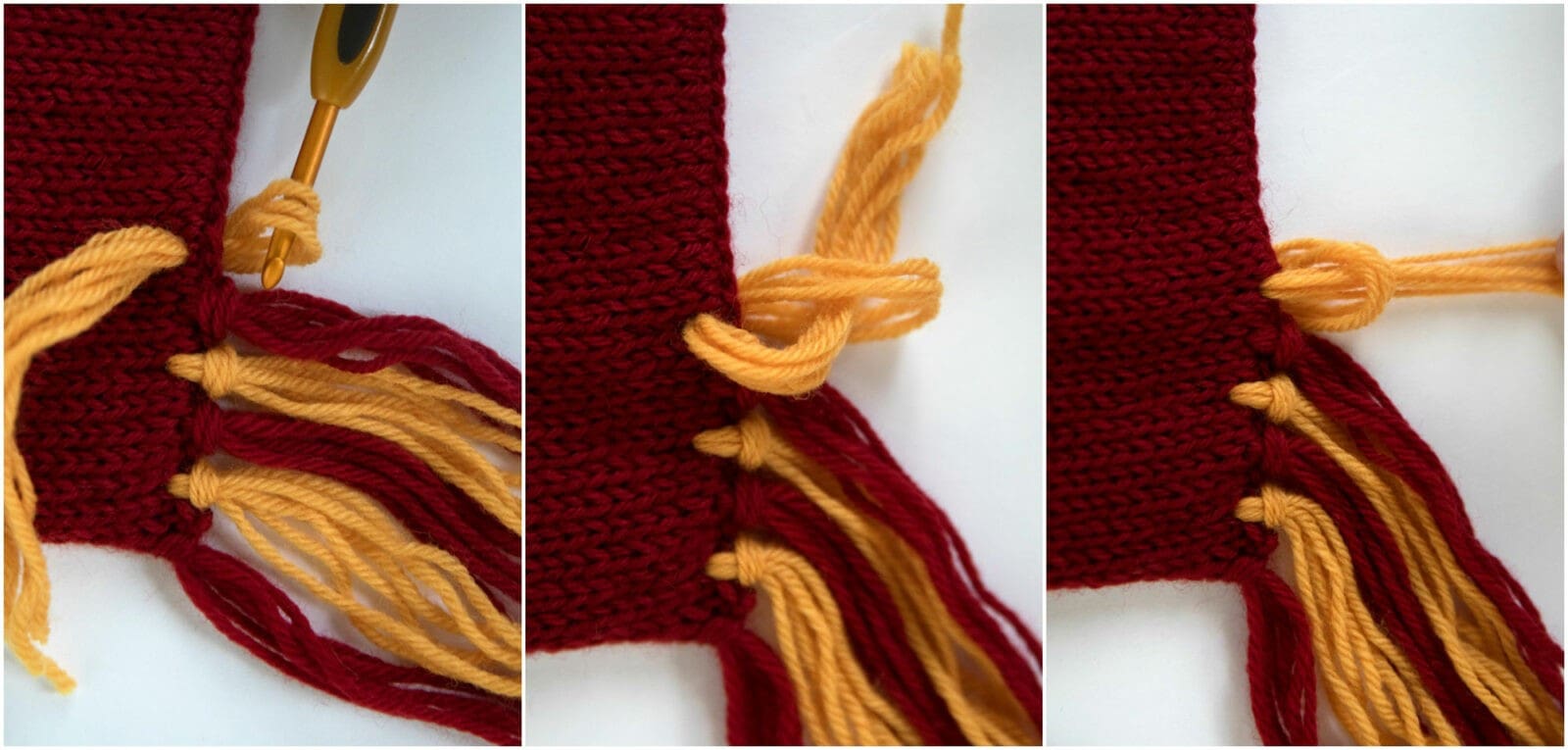 If you enjoyed this pattern please post the link on your favourite social media site to share with your friends!