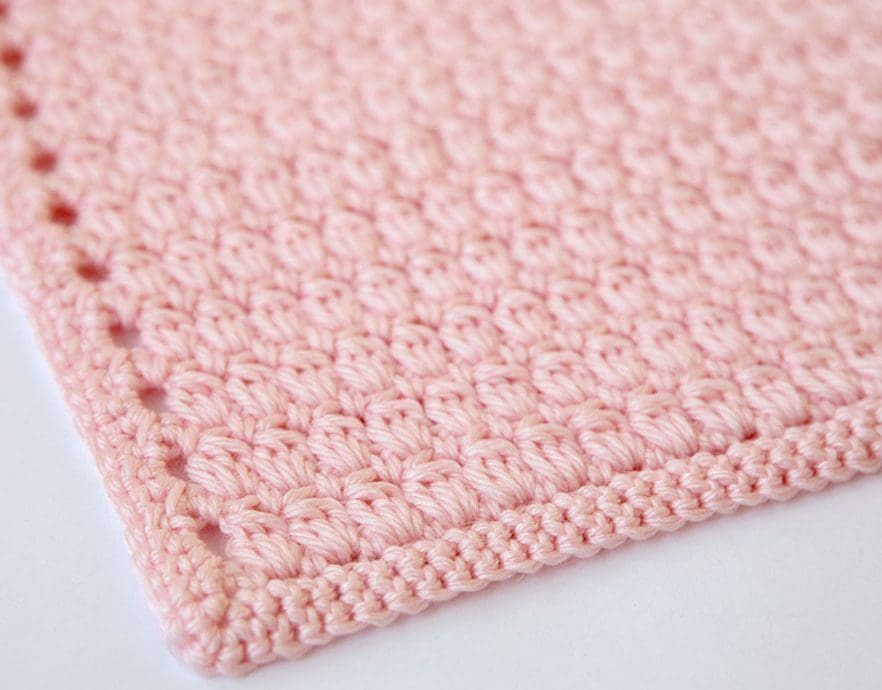 In the cluster stitch crochet video tutorial below, I will walk you through how to work this fun and easy stitch.
If you are new to crochet, don't be intimidated by the cluster stitch. I just know that after watching the video demo, you will love that this stitch is super easy and fun to work. Best of all, the cluster stitch creates a dense and cozy fabric. It is perfect for baby blankets, throws, and anything else that you want to be extra snuggly and warm.
All you need is some bulky weight yarn, and a size J-10 crochet hook to follow along with me. The yarn used in the demo is Knit Picks Mighty Stitch Bulky Yarn in the colour Blush.
Written Instructions:
Cluster Stitch (CL) *Yarn Over, insert hook into specified stitch and draw up a loop to the height of a DC; Yarn Over and draw through two loops; repeat from * two more times in same stitch; Yarn Over and draw through all four loops remaining on hook; Chain one.
Cluster Stitch Crochet Video Demo:
Cozy Cluster Crochet Stitch
Cozy Clusters Baby Blanket Pattern
If you'd like to crochet your own baby blanket with the cluster stitch, check out my Cozy Clusters Baby Blanket pattern. This is one of my most popular baby blanket patterns that is perfect for both baby boys and girls! You'll also love that it works up super quick, since it is made with bulky weight yarn and a large hook! This blanket will fly off your hook and leave you with a sense of accomplishment in no time. Not to mention, any parent would love to receive this thoughtful handmade gift.